The team at StreetSmart believe no one should be without a safe and secure place to call home. We are expert in engaging the community, raising funds and getting help to where it is needed most to combat homelessness. We are now looking to partner with like-minded philanthropists, trusts, foundations and corporates to co-fund our community grants to smaller, grassroots homeless services across Australia and accelerate our impact in the community.
Partner With Us For Social Impact
Through a partnership with StreetSmart we can help you effectively target and tackle homelessness and domestic violence across local communities. Our new funding partnership will also provide an element of sustainability and capacity building to enable StreetSmart to continue to grow our community engagement, fundraising and impact.
StreetSmart will be developing partner engagement opportunities to share learning and sector knowledge. Currently community grants are distributed twice a year, November and May.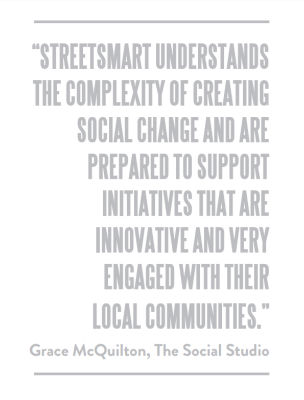 2019 Collective Lead Grants Proposal
2018 Collective Lead Grants Proposal
December 2018 – Total Distribution – $233,950
Projects Funded
Everyone's Home – Fixing Australia's Housing System
The Father Bob Maguire Foundation – Mobile Tech Hub and Learning Centre
Footscape – Foot Care For Our Most Vulnerable
Ngwala Willumbong – Specialist Homelessness Support
Project Respect – Customised Workshops to the Housing Sector
VACRO – Second Chance Coffee
Wear For Success – Preparing Young People for Work
YouthWorx – Colour Them Safe
Co-funders


B B & A Miller Fund
Sunning Hill Fund
Unico Community Fund
StreetFunder September Home Share Melbourne co-funded by:
StreetFunder September Home Share Melbourne co-funded by:
Zalewski Fund
Judy Glick Fund
StreetFunder June Medical Outreach was co-funded by:
Unico Community Foudnation
2018 Collective Co-funded Projects
May 2018 – Total distribution – $218,450
Projects Funded
Anchor Inc – Extreme Weather Relief
FareShare – Night Shift
Infoxchange – Ask Izzy
Society Melbourne (Crepe for Change) – The Coffee Cart Changing Lives
St Mary's House of Welcome – Keeping My Home
Travellers Aid – Homelessness Support Points
Willum Warrain – Women's Group
Co-funders


Alf & Meg Steel Fund
Unico Community Fund
2017 Collective Co-funded Projects
November 2017 – Total distribution – $285,500
Projects Funded
Australian Alliance to End Homelessness – Registry Week Activation Fund
Dandelion Network – Helping Families in Need
Family Access Network – Life Skills Outreach
First Step – Emergency Fund
Melbourne Homeless Collective (Melbourne Period Project) – Plate Up Project
Newtown NC – Boarding House Outreach Service
PIAC Homeless Person Legal Service – Employment Pathways Project
South Port Community Housing – 2018 Year of the Arts
St Kilda Gatehouse – Home Again
Taldumande YS – Intensive Family Support Program
Women's Community Shelters – Efforts to Outcomes Project Officer
YWCA – Older Women Project
Co-funders
The Grenet Foundation


Story Street Fund
Espero Fund
Projects Funded
Council to Homeless Persons – Peer Education and Support Program
Elizabeth Morgan House – Refuge outdoor & children's play area improvement
Fitted for Work: Female Offenders Ready to Work Program
Safe Futures Foundation – Security for women and children
WISHIN – Making a House a Home
Wombat Housing and Support Services – Opportunities for Children and Young People
Youthlaw – Creating a positive future
Youth Projects – Women's Wellness Programme
Co-funders


Alf & Meg Steel Fund
B B & A Miller Fund
Beeton Family Fund
Paterson Family Fund
Story Street Fund
2016 Collective Co-funded Projects
Nov 2016 – Total distribution $223,000
Projects Funded
Asylum Seeker Resource Centre – Housing Program
Flat Out – Access, equity & safety of the LGBTIQA community
Housing for the Aged Action Group – Home At Last
Justice Connect – Brokerage to prevent homelessness
Merri Outreach – Bright Futures
St Kilda Mums – Cots for Tots
Co-funders


Ballandry (Peter Griffin Family) Fund
BB and A Miller Fund
Johnstone Gumption Fund
Paterson Family Fund
The Pomegranate Fund
If you're interested, let's talk. We want to make things happen and are keen to hear from you.
Please contact our Founder and CEO:
Adam Robinson
0488 336419
adam @ streetsmartaustralia.org
www.streetsmartaustralia.org