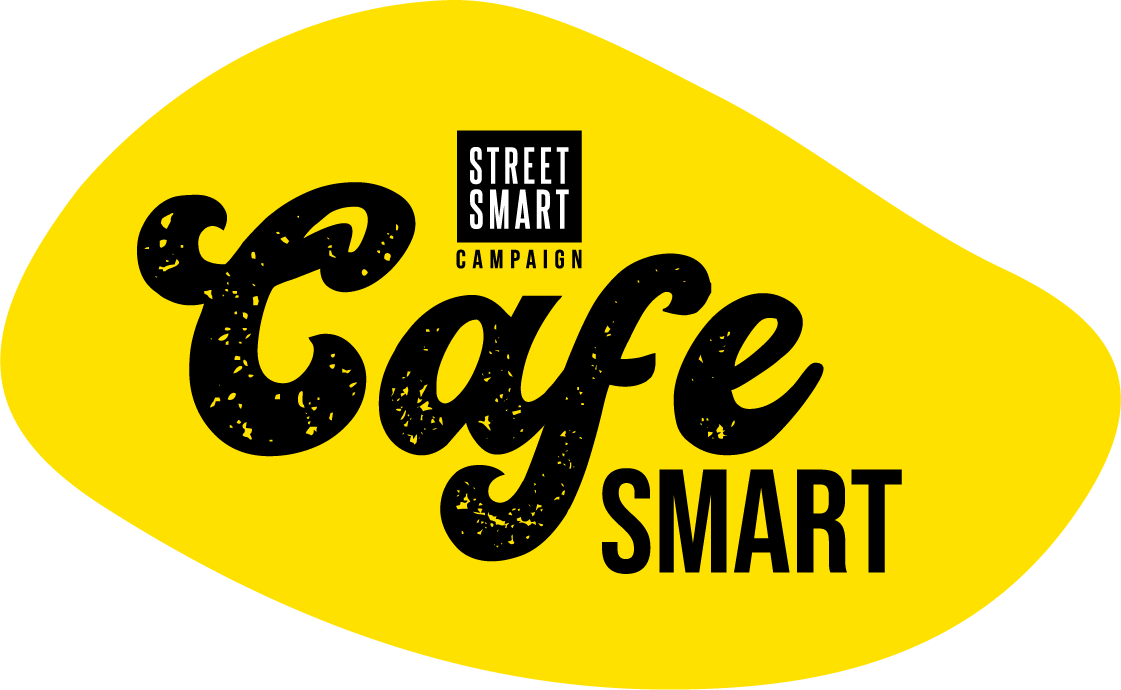 Donate the cost of a coffee.
CafeSmart is our National Fundraising Campaign. Your donations this month, along with donations made by donors at cafes, go to support grassroots homeless services delivering desperately needed essentials such as nutritious meals, emergency accommodation, healthcare, and the basics - underwear, socks, clothing, shoes, tents, sleeping bags and blankets.
It's All About Your Local Community
The power of CafeSmart is that donations collected through cafes, coffee roasters, corporate partners and our generous donors like you are pooled together to provide a whole of community response to fund vital services. It is a powerful collaboration that results in meaningful impact on the ground, local to the cafes that are involved. Grants target marginalised communities, including people experiencing homelessness, domestic violence, poverty, food insecurity and hunger, disability, poor mental and physical health and social isolation. Many people's vulnerability is driven by a chronic lack of affordable housing (to buy or rent), rising utility bills and basic essentials, resulting in financial stress.
CafeSmart Impact
Cafés in Victoria raised funds for young women experiencing homelessness, families facing food-insecurity, and educational support for First Nations youth.

Mitte Café supported First Nations youth through VACSAL in North Fitzroy, VIC 

"Students are finding it hard to engage with online schooling which unfortunately means that they fall behind often disengaging from school. CafeSmart funding supports VACSAL BWAYS Homework Club & Educational Excursions. We support young people between the ages of 6-24 with their Educational needs such as tutoring, and provide training materials or clothes for those that are looking for work."

Karin Williams

Cafés in Queensland raised funds for LGBTQI+ youth, people experiencing homelessness, and food relief to support families doing it tough.

Yolk Café helped young LGBTQI+ youth through Open Doors Youth Service in Fortitude Valley, QLD

"The funding has helped us support LGBTI people 18 – 24 who are experiencing homelessness in our community. There are no specific services to support this cohort with their challenges. Many of our young people have been displaced as a result of frequent lockdown periods in home environments that are not supportive of their gender and/or sexual identity." 

Chris Pickard

Cafés in Western Australia raised funds for domestic and family violence survivors, low-income families, and essential services for people sleeping rough. 

Yahava Kwik Koffee (Causeway) Café funded Domestic and family violence services for women and children through South West Refugee in Bunbury, WA

"The CafeSmart funding helps us to buy ambulance cover, pay for taxis to appointments, secure food and petrol vouchers, as well as school uniforms, books and bags for our clients. Your donations act like a soft cushion for our clients at the most terrifying and challenging time of their lives. Thank you so much StreetSmart supporters, please know that your funds will go directly to our women and children."

South West Refuge Team 

Cafés in New South Wales raised funds for at-risk infants, as well as food relief and essential services for vulnerable people.

Single O Café funded food relief support for vulnerable people through Rough Edges in Surrey Hills, NSW

"Rough Edges has been providing food relief for more people than ever before.  This donation from StreetSmart and the Cafés and supporters funds our Food Relief program, allowing us to supplement prepared meals with fresh produce, to ensure that our patrons have access to healthy food options as well as warm drinks and meals."

Jen Webster 

Cafés in the Australian Capital Territory raised funds to support vulnerable babies and youth, as well as essential services for young mothers. 

Ch Ch Ch Ch Changes Café supported young children through Roundabout in Canberra, ACT 

"Thank you StreetSmart Australia, this grant will enable Roundabout Canberra to provide babies and young children in need with essential toiletries such as nappies, wipes and formula through our network of over 90 social services agencies in the Capital Region. As a grassroots charity powered by Volunteers, we are very grateful for community support to enable us to continue this wonderful service. Your support has enabled us to help 110 babies with these funds, so that's wonderful!

Jeanette Dyer

Cafés in the Northern Territory raised funds for Indigineous domestic and sexual violence survivors.

Besser Brew Bar and Laneway Speciality Coffee Café supported survivors of domestic and sexual violence through Darwin Aboriginal & Islander Womens Shelter, NT

"Our clients are at risk of or experiencing homelessness due to the intersections of Domestic/Family/Sexual Violence. Our Clients greatly benefited from this grant in many areas including: Clothing, Shoes, Toiletries, Sanitary items, Schooling items and Identification. Thank you!"

Regina Bennett

Cafés in South Australia raised funds for families and youth doing it tough, and food relief for people sleeping rough.

Regional cafés like Little Local Co in Tailem Bend helped rough sleepers access food relief through Murray Bridge community Centre, SA

"Increased levels of homelessness, inaccess to food and financial support and a reduction in payments, has seen jobseekers struggling to make ends meet. The money from CafeSmart helps people in our network, specifically rough sleepers, gain access to emergency food relief."

Jade Porter 

Cafés in Tasmania raised funds to support essential services for babies and children, and food relief services for low-income families.


Hobart Cafes like Villino Coffee helped fund essential care for babies and children through Tassie Mums, TAS 

"This funding helps us to provide much needed essential items such as nappies, clothing, toiletries and more to children in need Statewide.  Children experiencing homelessness living in shelters, couch surfing and caravan parks. Funding like this ensures that the Tassie Mums team can continue to keep up with the demand for our service and give Tassie kids the everyday essentials for a safe and happy start to life."

Clair Harris
To Donate by Direct Bank Transfer:
Please send us an email of your donation, including donation amount, date, and donor name. We will send a tax deductible receipt to you.
Account name: StreetSmart Australia
Bank: NAB
BSB: 083-004
Acc Number: 17243-2803
Donations made to StreetSmart Australia over $2 are tax deductible. StreetSmart Australia (ABN: 51 106 387 446) is endorsed by the Australian Tax Office as a deductible gift recipient under the Income Tax Assessment Act 1997. StreetSmart Australia is registered with the Australian Charities and Not for profit Commission (ACNC).