Acknowledgement of Country and support for the Uluru Statement from the Heart
Image: Lizards Michael Breen 2017. Find out more at opencanvas.com.au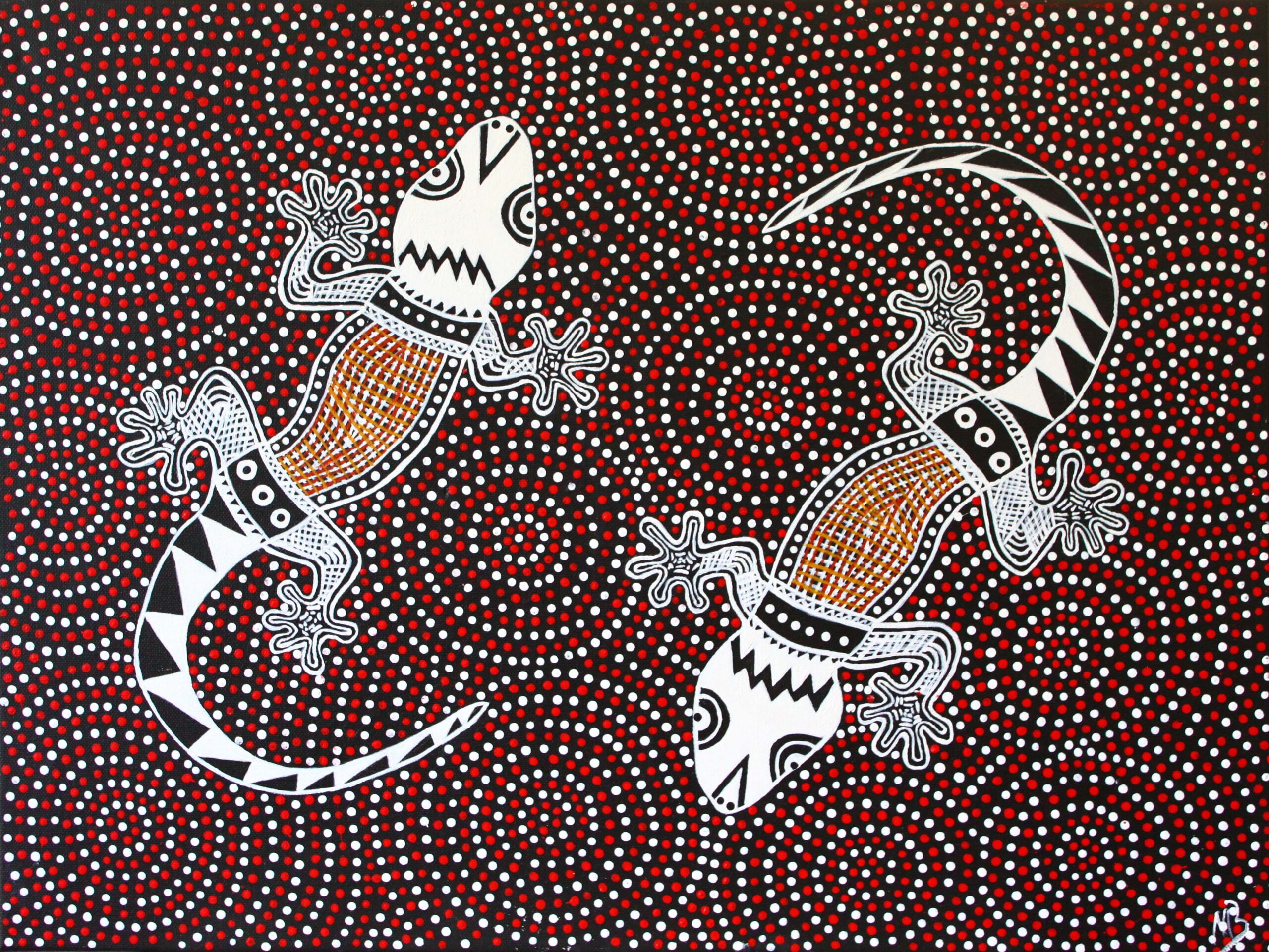 As an organisation that operates from inner Melbourne, we
acknowledge the peoples of the Kulin nation, the Traditional Owners of this land
. We pay our respects to their Elders, past and present. StreetSmart delivers our work on unceded land across Australia which always was, and always will be, Aboriginal land.
We recognise and celebrate the resilience, histories and cultures of First Nations peoples and their continuing connection to Country. We acknowledge theirs as the oldest continuing culture on Earth.
As an organisation that works to bring about change for people experiencing or at risk of homelessness, we believe that First Nations peoples are unacceptably over-represented among those who experience housing insecurity. StreetSmart believes in supporting First Nations led solutions to homelessness.
StreetSmart is committed to using its resources and its voice to reduce the incidence of homelessness and housing insecurity experienced by First Nations people. We will do this by listening to, and learning from, First Nations peoples in the communities in which we fund projects. We will also ensure that our grant making addresses the disproportionately high rates of homelessness experienced by First Nations peoples.
StreetSmart supports the Uluru Statement from the Heart. We endorse the enshrinement of a Voice to Parliament in the Australian Constitution. We continue to reflect on how StreetSmart can take practical action to support the Uluru Statement from the Heart.
Our Support for First Nations People and First Nations led organisations
With acknowledgement of the importance for self-determination, StreetSmart funds and supports First Nations led organisations and their programs, where possible, to assist people experiencing homelessness and disadvantage in their communities. 
The latest Census data shows that Aboriginal and Torres Strait Islander people make up 20% of people experiencing homelessness in Australia, and StreetSmart is committed to reflecting this disproportionate representation in our grantmaking. Throughout all programs supported with StreetSmart grants in 2021, 21% of beneficiaries were First Nations people. Our material aid program, SleepSafe, provides bed linen and towels to homelessness and community services across Australia. To date 33% of all sleep kits have been provided to people who identify as Aboriginal and/or Torres Strait Islander.
Some examples of organisations StreetSmart has recently supported include:
Aboriginal Community Services – Adelaide, SA
Innari Housing – Sydney, NSW
Larrakia Nation Aboriginal Corporation – Coconut Grove, NT
Marninwarntikura Women's Resource Centre – Fitzroy Crossing, WA
Murri Watch – Brisbane, QLD
Ngwala Willumbong – Melbourne, VIC
"I write to thank you on behalf of Rumbalara Aboriginal Co-operative for your contribution toward our emergency Relief Program. Our organisation services Aboriginal community members across the Goulburn Valley Region through a range of Health and Wellbeing programs, which offer whole of life support. The Greater Shepparton local government area has a highest Aboriginal population per capita in Victoria. The Rumbalara Emergency Relief Program assists community members who are vulnerable and face severe disadvantage. The needs of community are often very complex and include a number of stressors, including housing affordability, health and wellbeing, financial disadvantage and cultural and family responsibilities or trauma. Your grant of $8,000 will contribute greatly to offsetting the currently increasing costs of living and to support the general wellbeing of our Aboriginal community."  – Carol Cann, Housing Manager, Rumbalara Aboriginal Co-operative, Grant Recipient 2022
"Yumba-Meta Limited is a strong voice for the First Nations people in Townsville raising awareness, advocating, and representing First Nations People to overcome disadvantage and obtain equal access. We have been operating in the Domestic and Family Violence sector since 2008 and operates two women's shelters in Townsville which run at full capacity almost 365 days of the year. Our Elsie Refuge is a safe house that provides security and healing for First Nations women and children fleeing domestic violence. Having a safe place reduces violence inflicted on women, enables them to make informed choices in a culturally supported and safe environment, and brings some normalcy to their lives. Thank you StreetSmart for donating the SleepSafe kits to be given to Aboriginal women and children entering the YML domestic and family violence shelters."  – Brenda, Manager of Women's Shelters, Yumba-Meta Ltd, SleepSafe partner since 2020