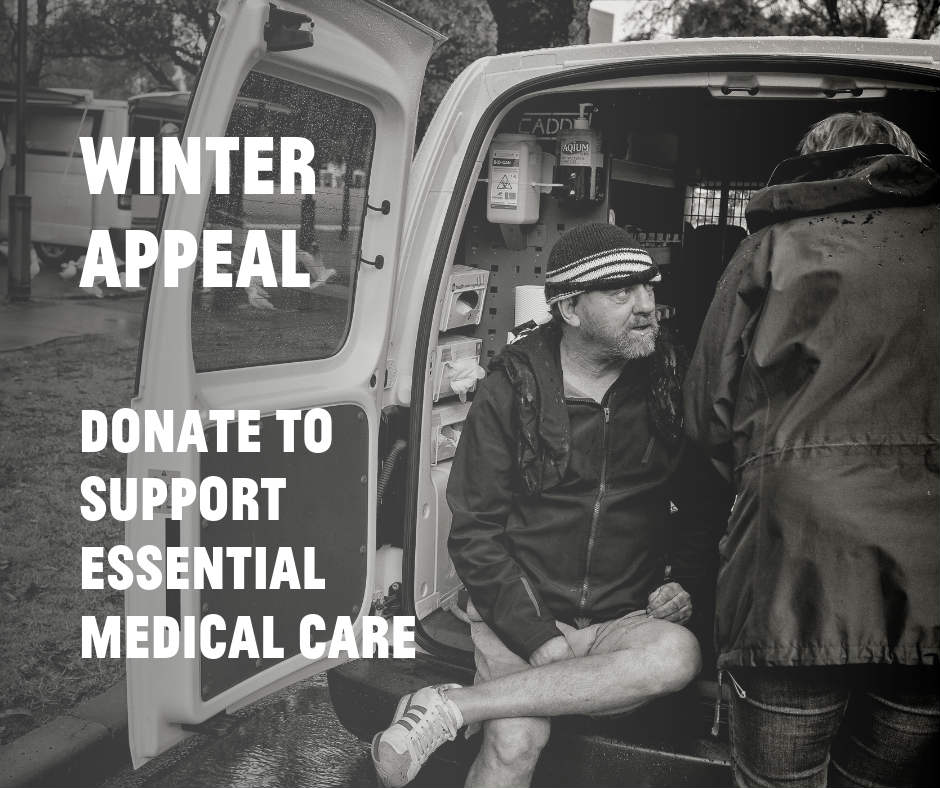 WINTER APPEAL – STREET MEDICAL OUTREACH
Research from overseas shows that homeless people, who sleep rough, have a life expectancy 30 years below average.  Sleeping on the street is dangerous and creates a host of health issues, and untreated chronic illness, the flu, wounds, and infections, can turn deadly.
Rough sleepers commonly suffer from untreated mental health issues, injuries, skin infections, poor foot and mouth care, and blood-borne viruses. In winter it's especially hard to keep on top of even the most minor of ailments, which can become serious problems, ending up in A&E and prolonged hospital treatment.
As numbers of homeless people continue to grow across our communities, and winter closes in, our EOFY StreetFunder campaign will raise vital funding for five lifesaving health projects, who hit the streets each night to care for the most vulnerable in our community. These organisations are poorly funded and some are entirely run by volunteers. This month funding will go to: Homeless Healthcare (Perth), Homeless Health Care Tasmania (Hobart), MICAH (Brisbane), Night Nurses (Melbourne), and Street Med (Sydney).
You can help by chipping in your tax-deductible donation this month.
 "The Street Clinic receives no government funding, the response we received was that it was 'too innovative', and that Hobart doesn't have a homelessness problem."
More Information
Huge thanks to the following organisations who have supported our StreetFunder
"Our business has been supporting StreetSmart through workplace giving since 2015. Each month our team helps fund a new project and we get immediate feedback on how the money has been spent. We are really proud to be a part of such an important initiative, and our staff are too"   Justine Butler, ASIC in the Community Manager