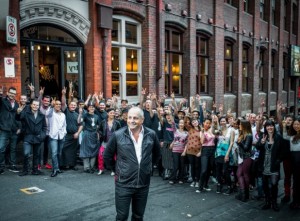 During November and December 2014, 114 restaurants participated in DineSmart. Throughout the 7 week campaign diners are asked to contribute a $2 donation per table. Amazingly, $234,800 was raised $2 at a time.
A huge thanks go out to everyone who contributed their $2's and to the front of house staff at participating restaurants. 100% of these funds raised will now be distributed to support smaller grassroots homeless projects close to where the funds are raised. StreetSmart is all about funding grassroots action against homelessness and we seek out projects in the communities where restaurants raise the funds. Considering the cuts to front line services by both Federal and State governments this funding is needed as much as ever. It is crucial and will impact many lives. Currently grant applications are under review and will be announced in April.
2014 Top Fundraisers
DineSmarts strength is that any restaurant across Australia can participate and contribute to the campaign. We applaud all our participants but also like to give a special shout out to our top fundraisers.
Here's the 2014 top 15…
| | |
| --- | --- |
|  Chin Chin |  VIC |
|  Cafe Sydney |  NSW |
|  Stalactites Restaurant |  VIC |
|  Windy Point Restaurant |  SA |
|  Red Spice Road – McKillop St |  VIC |
|  Kong |  VIC |
|  Baby |  VIC |
|  Olé Southbank |  QLD |
|  The Apollo |  NSW |
|  Pizza D'Oh |  VIC |
|  Longrain Melbourne |  VIC |
|  Mamasita |  VIC |
|  Cho Cho San |  NSW |
|  Izakaya Den |  VIC |
|  Il Centro |  QLD |
| | | |
| --- | --- | --- |
| | | |
| Chin Chin | | Stalactites |
| | | |
| | | |
| The Apollo | | Red Spice Road |