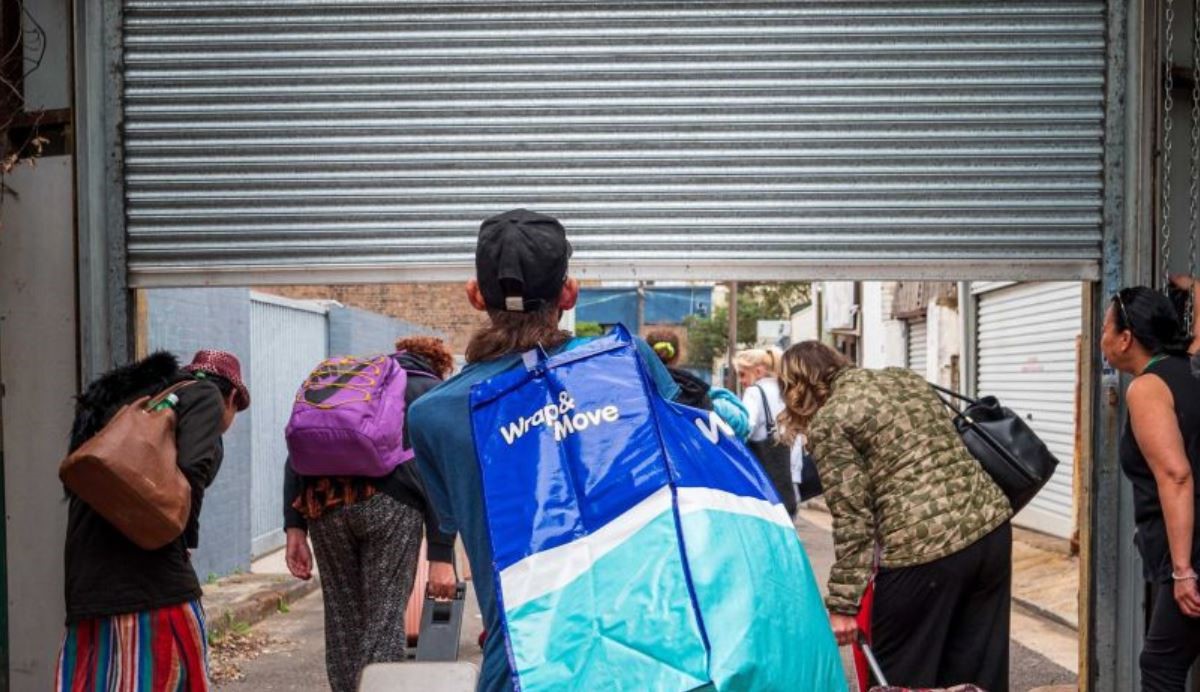 People facing homelessness leave a shelter for a hotel. (ABC News: Scott Mitchell)
It's Homelessness Week and we are at a pivotal time for homelessness and housing policy in Australia. What we have seen happen since late March has been nothing but monumental and presents a once-in-a-lifetime opportunity to transform the country's homelessness system. We need to make sure we continue this revolution for the homelessness sector and not go back to the way it was before the pandemic hit.
In late March Federal and State Governments and homelessness services moved immediately to support vulnerable people across Australia and end street homelessness. Close to 8,000 people have been accommodated and cared for, and is one of the most significant homelessness response Australia has ever seen. This is something to be proud of but it is something that many people have been advocating for, for close to 20 years. Where we go from here is really one of two ways; we can regard this as only a response to COVID-19 and go back to the way it was or we can embrace this once in a generation opportunity, change our approach and take a huge step towards ending street homelessness.
Before COVID-19
Before the pandemic hit our shores there was a housing and homelessness crisis that Federal Governments have failed to acknowledge and address. These conditions haven't changed with COVID-19 and will only get worse. Close to 120,000 people were homeless on any given night and around 280,000 people accessed homeless services in 2019.  Driving this crisis was a chronic lack of affordable houses to rent, inadequate low levels of social security putting people into poverty, appallingly high rates of domestic violence and family breakdown and the casualisation of insecure low-income work.
The consequences of these major structural failures were; thousands of people sleeping rough each night; a totally inadequate social housing sector with over 200,000 on the waiting list; more than a million people in rental stress; the highest household debt in the OECD; 3 million Australians living in poverty with 1 in 5 regularly going hungry; chronic overcrowding in poorer households and a housing system set up to support investors with multiple properties rather than providing affordable homes.
COVID-19 Changed Homelessness
The rapid accommodating of 8,000 rough sleepers was a 'Housing First' response, on a mass scale, to address homelessness in a health crisis. This strategy has worked to end street homelessness in Finland and a number of cities in USA and Canada. In Australia we do this on a micro scale with great success, but Government has refused to scale this response and take it to the next level. COVID-19 forced their hand.
Speaking on this rapid accommodating of rough sleepers into hotels and motels in Sydney Peter Valpiani (CEO Haymarket Foundation) said:
 "The results we have been seeing have been nothing but amazing. The effect of having a safe place to live, even for a short amount of time, was transformative. To see how people have grown their self-worth, their outlook has fundamentally transformed. It's really nice to see personalities come through and see this happiness and joy and a bit of safety. There have been so many things that have been a real challenge during this pandemic but this has been a bit of a shining ray of light for us."
We know housing changes people's lives. The majority of people accommodated in hotels and motels are still sheltered, with some plans in place until April 2021 (Victoria) with pledges of many people being permanently housed. How-ever some schemes are being wound back or funding is still to be committed.
So what happens next?
One thing that the pandemic has shown us is that everyone needs somewhere to call home. This is just common sense, and yes, housing is a human right.  Yet over the past twenty years our political leaders have abandoned this goal. They have chosen to ignore the appalling trauma and impact of homelessness on the people who experience it.  Making sure all your citizens are housed and fed should be one of the basic KPI's for any Government.
Sending people back onto the streets should simply not be an option, but without urgent action it will be the only option for too many people. With one million people now unemployed, the reality is that many people are close to losing their homes.
Here's 4 things we'd like to see National Cabinet agree to:
A final word
Why does a country as wealthy as Australia choose high levels of homelessness? Notwithstanding the goal of providing someone the dignity of a decent life, it has been shown to cost more to keep someone homeless than it does to house and support them.  The costs to the mental health and health systems, the justice system, and the homelessness system far outweigh providing affordable homes and support.
Too many Government ministers and the mainstream media choose to denigrate and blame people in poverty for their situation, yet we know that it is not personal failings that lead to poverty but systemic societal failures.
Yes, Australia has a significant homelessness problem, but the good news is that it is solvable. The major barrier is a lack of Commonwealth leadership and will power. The people driving change are working tirelessly at a community level but it's time for Government to take responsibility and properly fund our responses to the housing and homelessness crisis.