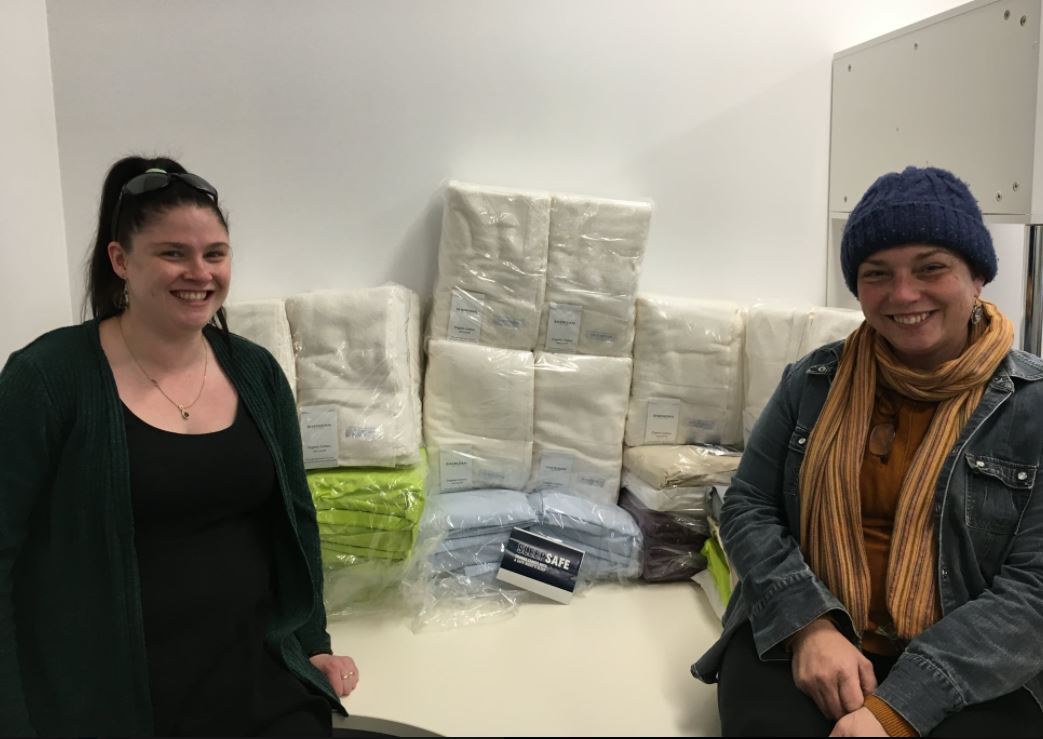 Western Sydney Homeless Connect (WSHC)
Today is World Sleep Day and the focus this year is 'Regular Sleep, Healthy Future.'  This concept – that a good night's sleep can be life-changing – is the driving force for our SleepSafe initiative with Sheridan Australia. Sleep not only gives the body a physical rest but also improves mental health.
"It is important to remember that sleep is involved with many physiologic systems such as memory consolidation, control of inflammation, hormone regulation, cardiovascular regulation and many other important functions. Reduced sleep duration has been shown to cause impairments in cognitive and executive function, while poor sleep has been associated with poor mental health." Dr. Lourdes DelRosso.
SleepSafe Sleep Kits, including a sheet set and towel, are delivered to vulnerable people in crisis. They give people the basic comforts we take for granted and give someone the security of their own bedding to use while they're in either temporary or more permanent accommodation.
Malika is 21, her children are 4 & 2. She became homeless as a single mother and she was unable to enter the private rental market. Her mother is deceased & father physically was abusive.

When receiving her family's sleep kits, she said, "The sheets sets are so beautiful and make the girls' rooms so pretty, which makes my unit feel like our very own home." Youth Futures, WA.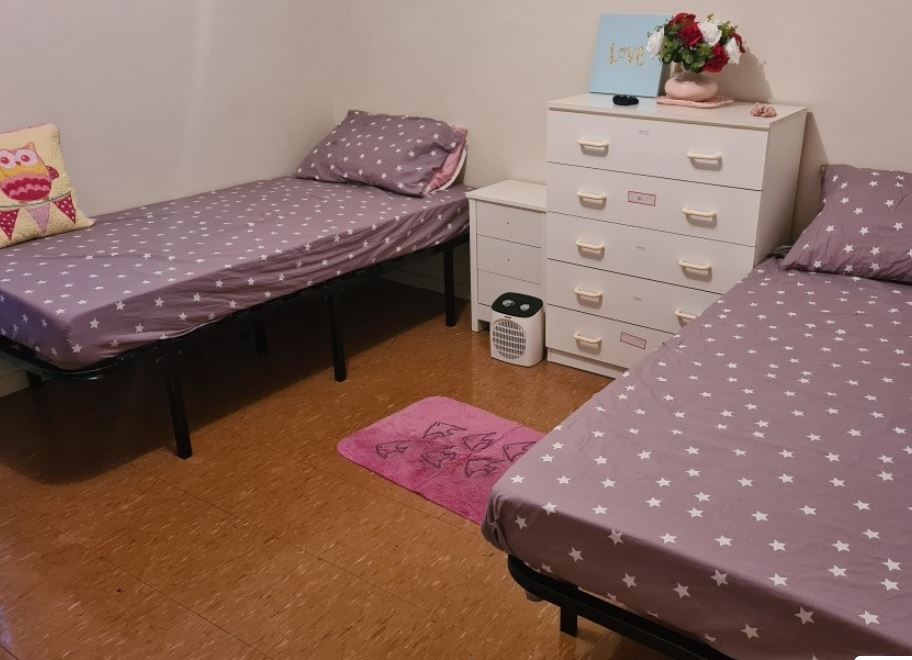 Over the past three years, support from the public has been incredible, with donations raising funds to provide more than 25,000 sleep kits for people at risk or experiencing homelessness.
But we wanted to take you back to where it all started.
Adam Robinson, our Founder and CEO, explains what makes the partnership so strong. "SleepSafe is just such exceptional special program.  If you asked me what small NGOs want from a corporate partnership I'd say you can find it all in our relationship with Sheridan. The team we work with genuinely share a mission with us, and that's special."
How did SleepSafe come about?
"We have to go back a little.  I set up StreetSmart to support small community based homeless services who day in day out do front line work to help people in crisis. From early on we found that agencies just couldn't find the funding for the basic essentials for people coming through their services. Things like clothes, shoes, school supplies for the kids, phone cards/credit, transport cards etc. Many had no possessions, they had left it all behind when they fled an abuser, a dangerous boarding house, or everything had got wet while sleeping rough.  1/3 of our grants are still aimed at material aid items.
Many people entering the homelessness system have nothing. Two items that agencies applied to StreetSmart for, again and again, were linen and towels. Of course, we were glad to help. It turned out that these basics are a considerable expense for all accommodation providers. Government funding rarely covers such items so organisations rely on local fundraising, something many are just not well resourced to do. That's why StreetSmart's small community grants help fill the gaps and provide these basic needs.
Then three years ago, in February 2018, I received an email from Helen Ponzoni from Sheridan.  They were in the early days of researching who to partner with as a community partner.  What came across in those early conversations and meetings was the depth of their commitment to create a world class community partnership with real impact for vulnerable people, utilising the skills and passion of their team and business."
A partnership is born
Helen Ponzoni, Senior HR Manager, Hanes Australasia – Sheridan Group, said, "When we commenced the journey, our team shared feedback on how we would like to support our community and what would resonate for Sheridan. We found consensus with support for people experiencing homelessness and wanting to make a meaningful difference in this space.
After connecting with StreetSmart and hearing about how StreetSmart has created a community of individuals and businesses who connect on the belief that everyone should have a safe and secure place to call home, we knew we wanted to create a partnership."
Over the course of several meetings and collaborative workshops the SleepSafe initiative took shape.
Adam said, "It took time and a huge effort from both parties. The Sheridan team were always interested in how they could best help and also bring their business supply chain and partners into the program.  They gave a high priority to helping at the grassroots of the problem, local impact, matching on the ground their store footprint, engaging with all their staff across the business and listening to the real needs of the people who were in need of support. It just felt like a great fit from the beginning."
SleepSafe launched in August 2019 with the aim of suppling Sleep Kits made up of single bed linen set and a towel to accommodations services across Australia.
Geoff Hills joined StreetSmart in October 2018 and has been driving the campaign along with the core team at Sheridan for over 2 year. "The things we have learned, particular in the past year, is that everyone deserves a safe place to call home. Sheridan Australia, their dedicated team and generous customers have brought SleepSafe to light and providing thousands of very vulnerable Australians with a simple comfort," Geoff said.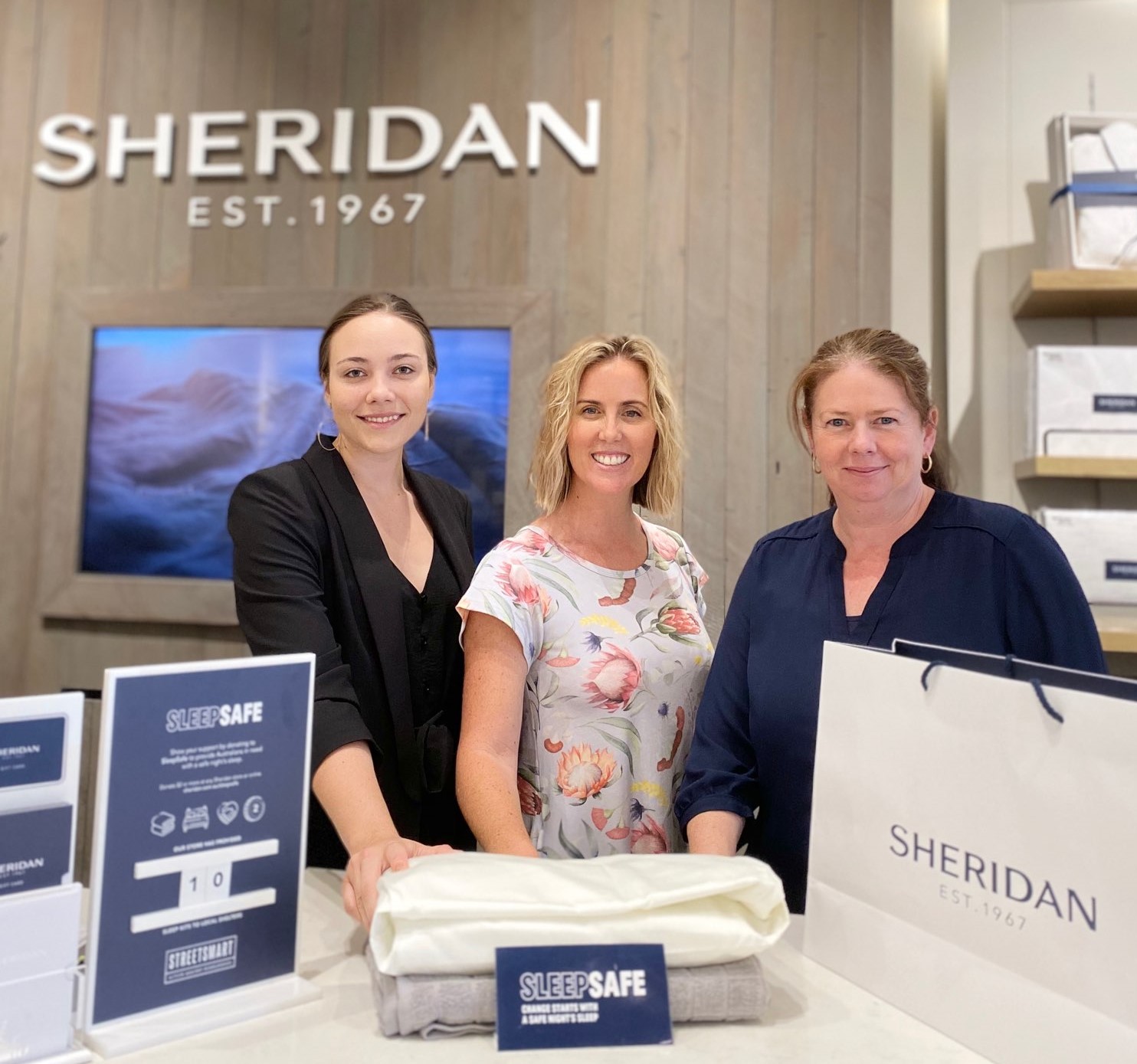 The passion and dedication for SleepSafe is felt across the entire Sheridan business from senior management to store staff. Feedback from local stores often describes a strong sense of pride and connection to their local community.
Store Manager of Tamworth, Alice Love, said, "SleepSafe is just such a great cause and it is helping so many people. It is a privilege to be able to do something to take the pressure off shelters a bit. To be able to make a difference in our own community means the world to us and our customers. Everyone knows someone that has been through a rough patch and want to make a difference to those that are currently struggling."
The true impact of SleepSafe
With thousands of Sleep Kits being distributed every few months, it is easy to only see the bigger picture. However, the true impact of SleepSafe is felt within each and every moment that a sleep kit is handed to someone in crisis. It is something of their very own to help provide security and comfort when they need it most.
Youth Futures WA
"The young people accessing the program are always so appreciative and grateful as they couldn't afford beautiful new sheets and towels. They help make a new house a home and add a sense of pride and make them feel they are worthy, when often they have had no sense of worthiness." – Melissa Porter, Homelessness Services Manager.
Department of Children, Youth Justice and Multicultural Affairs
"I just wanted to pass on my sincere thank you and appreciation for these SleepSafe kits. In my role as a Transition Officer, I've been able to provide these to some of the young people that I work with. Something as simple as a fresh new towel and sheet set will go a long way to making a bigger difference to our young people's lives." – Eli Tamou, Transition Officer.
Argyle Housing
"The Sleep Kits are given to our tenants, upon lease signup, that are homeless or have escaped domestic violence. Usually, these people do not have anything or they have left a situation in a hurry with just the shirt on their back. Your kits are vital to our incoming tenants as they provide a sense of care and dignity to those, for whatever reason are unable to purchase linen for their bed and a towel for their shower." – Simone Phillips.
InTouch Multicultural Centre Against Family Violence
"I wanted to take the chance to thank you so much for the SleepSafe sleep kits. We are extremely thankful for the support that StreetSmart provide to the whole organisation and the women and children that we have the privilege to work with." – Laura.