We are in the midst of a cost-of-living crisis. It has been in the making for many years, however local and worldwide events have recently accelerated and amplified the impact on low-income Australians. At its core is the chronic lack of affordable housing and the rising cost of energy, pushing people, often in low paid work, to seek help from community services. Often this is for the first time in their lives. To respond, StreetSmart donors and supporters raised funds through May, June and July (including our EOFY  Winter Appeal), enabling us to make 59 community grants providing $320,000 for Emergency Relief and Food Relief programs, along with Flood Relief grants and our SmartMeals and Making-a-Home programs. 
A recent Anglicare report highlighted the affordable housing crisis, finding that people earning a full-time minimum wage can afford just 2 % of the rental listings found across the country. Meanwhile, people on the age pension can afford just 1 %. For people on unemployment benefit (JobSeeker) there were just seven, out of the country's 45,992 private rental listings, that were affordable and all of which are rooms in share houses. The report found that "No part of the country has been spared". Increasingly front line workers are seeing more people living rough, in tents, caravans and their cars. Many caravan parks are reporting being full, but receiving at least 2-3 enquiries a day for accommodation. 
"Cost of living has skyrocketed recently, while support payments have lagged well behind. Many people are living well below the poverty line, so putting food on the table and keeping a roof over their heads is a constant stress. Once you become homeless it is so hard to get back on track. Our clients are in severe ongoing financial hardship, living in unsafe boarding houses, short term housing, often fleeing domestic violence, sleeping rough in their car or under bridges." – Monash Oakleigh Community Support
With many people experiencing crisis, our recent grants are aimed at proving immediate support, helping pay for essentials such as; food, rent, energy bills, fuel, sleeping bags, tents, medicines, clothes, socks, underwear, and phone credit.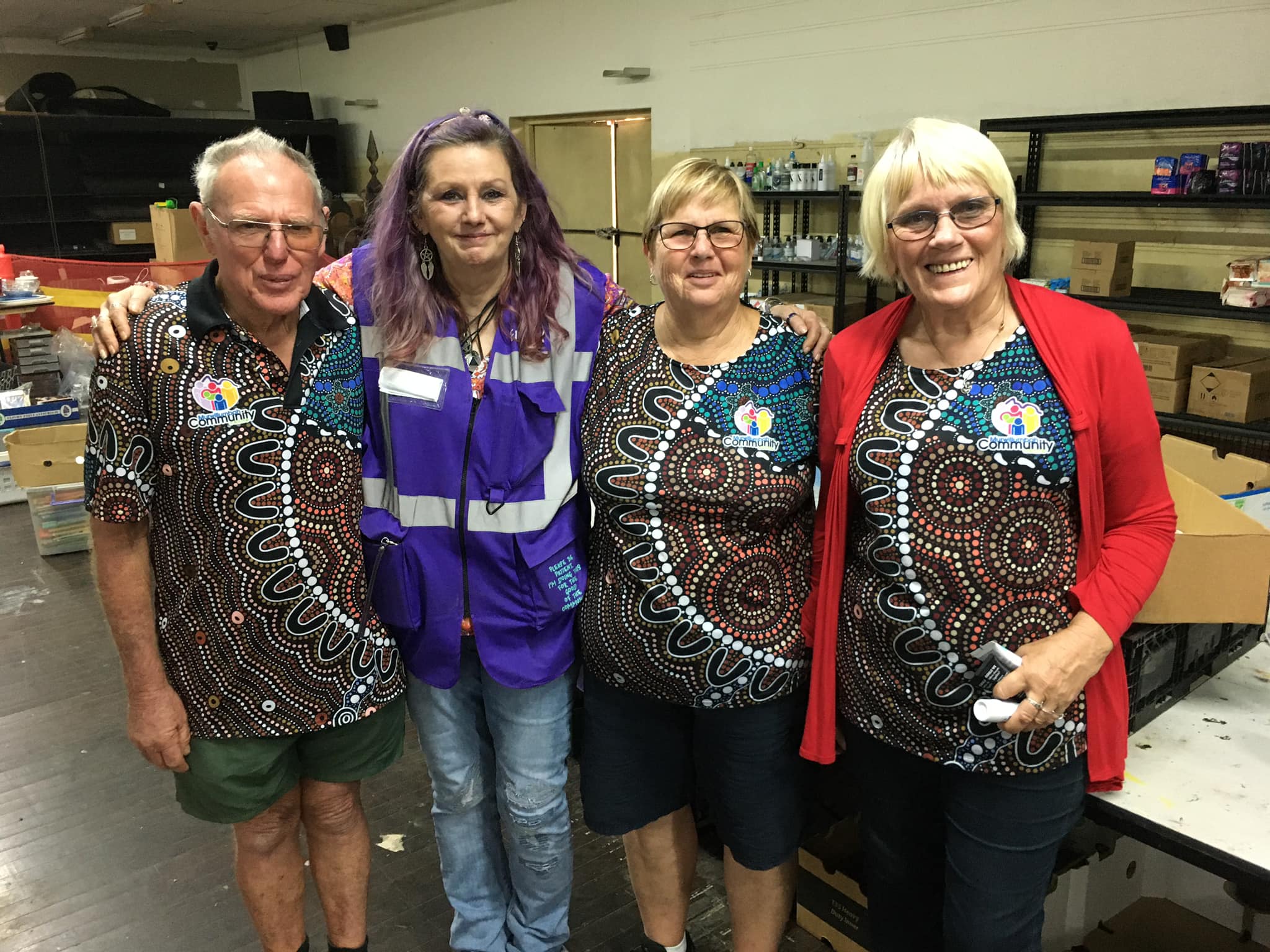 In large parts of NSW and Queensland this current crisis has been made much worse by the recent and continuing catastrophic flooding, displacing tens of thousands of people. Thirteen grants, totalling $51,000, were provided to organisations in Flood impacted communities. 
"We have been told many harrowing stories of flood survival. Some of our clients are living in tents and need basic equipment, some are returning to their homes and are turning to us for help to purchase essentials and replacement furniture. It is going to be a long ongoing process. This kind donation will help us to give a helping hand to many families."– Barbara Swain JP, Mental Health Support Group
Read the full Impact Report of our Flood Response here.
Baby Give Back were funded with $9,000 worth of grants to support children and families with essential relief and material aid. Watch their Impact video below.
Food Relief
More than one million people every month are relying on Foodbank to help feed themselves and their families. As they struggle to pay rent and bills, purchasing food slips down the priority list, often resulting in going without, or only buying the cheapest of ingredients. Recent feedback from food relief services reports a dramatic 60% rise in demand over just the past two month. This is why we targeted $80,000 of grants to 16 food relief programs to provide food parcels, pantry staples and meals to 18,150 people. We also supported 11 social enterprise food businesses with $55,000 to make 20,625 community meals, and provide employment to marginalised workers, through our SmartMeals program.
"Our Community Pantry program distributed over 3,600 parcels of fresh fruits, vegetables, meats, dairy, frozen foods and dry goods in the last year. Rebeka, mum of four, said "Without Banksia's support, there is just no way I could make ends meet. The friendly and understanding staff make me feel so comfortable in asking for help, the food is great quality and it lets me afford other essential needs like medications and paying my bills. We are so grateful that this program is here to help people who are in need without losing their dignity."
-Banksia Gardens Community Services (pictured)
Read the full Impact Report of SmartMeals here.
Making-a-Home
Nine grants, valued at $56,000, are funding our Making-a-Home program which supports people into housing. Supporting people when they gain housing is vital for tenancy success. This round of grants is providing flexible brokerage to nine 'Zero' programs, working to end street homelessness through 'Housing First'. These local collaborations are working together to identify and house our most vulnerable rough sleepers and your support will provide critical assistance for a successful tenancy.
"The Ending Rough Sleeping Byron Shire Collaboration is a collective impact initiative that brings together diverse community partners who are working together to end rough sleeping. We work together to coordinate support and improve housing outcomes for people sleeping rough, however the program has received no external funding over the past two years and has limited access to brokerage funding which can act as a barrier to outcomes for these more vulnerable persons. The Making-a-Home grant funding will directly support these persons to access accommodation and set-up a tenancy, providing rapidly accessible, person-centred, and flexible brokerage options to respond more effectively to the needs of people sleeping rough." –Ending Rough Sleeping Byron Shire Collaboration
Pictured: Wollongong Homeless Hub, by Robert Peet
To read the full Impact Report for the Making-a-Home program, click here.
Emergency Relief
The community sector is under pressure. At a time when the number of people seeking support is rising a new report by the Social Policy Research Centre at UNSW Sydney has found that the community sector is "underfunded, overworked and underpaid" and that "the pandemic has compounded the strain on the services sector". The report has highlighted acute funding shortages and concluded that community sector workers are "carrying the costs of the crisis"; with services and workers being pushed to their limits. This makes our Emergency Relief grants of $80,000 to 16 smaller grassroots organisations even more vital at this time, providing critical care to the most vulnerable.
"Our community fundraising was dramatically impacted by COVID-19 (dropping by 70%) with our opportunity shops, our source of funding to support our clinical programs, having to shut repeatedly.  We were also unable to run a number of fundraising events that had been planned for 2020 and 2021."  –Manager, DonCare
Pictured: Port Phillip Community Group
June – July Grants Summary
*click on each Grant category to see the full list of recipient organisations
These Community Grants were made possible with the generous support of our donors during our EOFY Winter Appeal including our monthly donors, once off donors, corporate and philanthropic partners. We thank every one of them for their generous support and encourage other funders to make contact with us if they wish to have a collective impact with StreetSmart.
To support our work in the community you can donate once off or become a regular monthly donor click below.
Donate